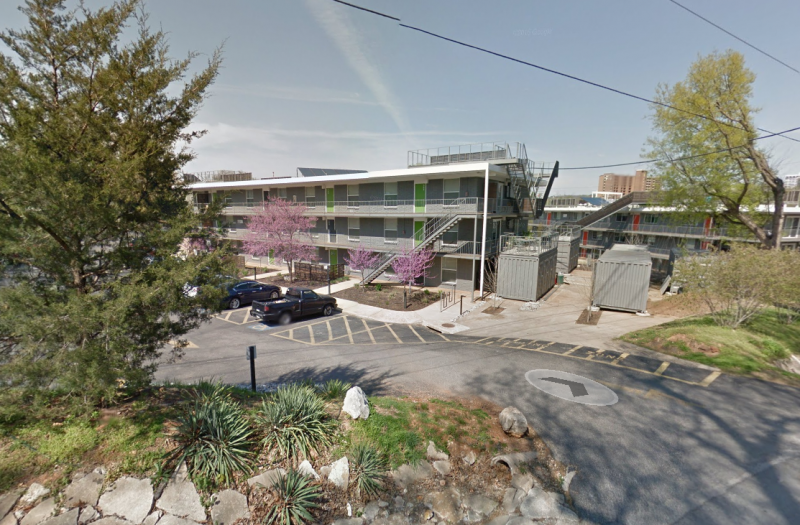 Overview
ECO Modern Flats is a 96-unit multifamily rental project on a 2.9-acre site in Fayetteville, Arkansas, home to the University of Arkansas. The $7.4 million development project involved the complete renovation and repositioning of four three-story buildings first built between 1968 and 1972. The project includes both sustainable design and wellness features and has been targeted to an underserved rental market of young professionals 20 to 30 years of age.
ECO Modern Flats, which achieved the highest LEED (Leadership in Energy and Environmental Design) rating, was the first LEED-certified development in Arkansas and the first apartment complex in the state to specifically promote a healthy lifestyle. The development's aggressive green building strategies cut utility costs in half. ECO Modern Flats was also the first apartment complex in the area to offer on-site recycling. The four buildings consist of three floors of eight one-bedroom apartments, all approximately 600 square feet, which is significantly smaller than other rentals in the area. Residents can easily walk or bike to the university, the farmers market, the entertainment and arts district, shopping, and the public library.
ECO Modern Flats developed new courtyards and outdoor spaces that were created in previously unused residual spaces between the four apartment buildings. The architects transformed these unused or underutilized residual spaces into new outdoor living spaces and courtyards. The Wedge courtyard, for example, was created in the triangular space between buildings one and two; the Waterworks courtyard was created in the space between buildings three and four; and the Eco courtyard was created in the space between buildings two and four. The renovated pool area remains a primary amenity and gathering location as well. Each ECO apartment now has either a walled patio area, terrace, or balcony, or access to a large rooftop terrace. New, cantilevered stairs of steel and cedar panels were added to the buildings, some of which span from the third-floor walkways to the rooftop terrace, where residents now can enjoy previously unobtainable views of the university, city, and mountains. The shared open spaces, including the rooftop terrace, community vegetable garden, and pool patio, were designed as community gathering spots where residents socialize and get to know their neighbors.
Location
130 South Hill Avenue
Fayetteville, Arkansas 72701
Program Details
Developer
Specialized Real Estate Group
Fayetteville, Arkansas
Architect
Modus Studio
Land Use
Multifamily rental apartments
Size
2.9 acres
Special Features
Energy-efficient design
Renovation
Sustainable development
Healthy place features
Wellness features
Student housing
Health
Natural cleaning products
Non-toxic building materials
Large opening windows
Community garden
Allergy-reducing design
Smoke free property
Community activities
Community
Central, walkable location
Bike & walking trail access
Bicycle storage
Community courtyards
Rooftop patios
Innovative recycling program
Public transit
Locally-grown design
Land + Water
Rainwater harvesting system
Native drought tolerant plants
Dual-flush toilets
Green roof
Rain gardens
Low-flow faucets
Water-wise irrigation
Energy
High efficiency heat & air
Superior insulation
Efficient lighting
Reflective roof surfaces
Locally sourced products
Energy Star appliances
Sustainability Features
ECO Modern Flats was the first multifamily project in the state to be certified under the LEED Program and achieved the highest Platinum rating.
Water conservation. A rainwater-harvesting system diverts water from the roof into two 4,600-gallon cisterns made from galvanized steel culvert pipes. Approximately 50 percent of the rainwater from each roof is funneled into the cisterns, then stored and used to irrigate gardens, including the community garden beds. At the center of the courtyard rain garden, a bioswale is planted with native vegetation; it diverts, slows, and filters stormwater runoff from parking areas. Indoors, low-flow faucets and showerheads, and retrofitted dual-flush toilets, reduce potable water consumption.
Energy conservation. Specialized knew from the start that the apartment's lack of insulation and decades-old mechanical system were wasteful and simply inadequate. In place of the antiquated heating, ventilating, and air-conditioning system, a far more energy efficient, minisplit heat pump system for heating and cooling was installed in each apartment with a small condenser on the roof. In contrast to the previous two-pipe system that could be set only on either heat or cool for an entire building, now each ECO apartment has a remote control that also acts as a thermostat, so residents can monitor thermal comfort in their individual units. The solar hot water collector system— clearly visible on each of the four roofs—provides up to 80 percent of the hot water needs for residents. The glycol heat exchangers connect to a large-capacity gas-fired water heater that does not activate while the sun is up. Because peak use is during the day, this hot water system is extremely efficient. A soybean-based spray foam insulation was added to seal off all air infiltration and provide adequate R-value to the walls. In addition, new fluorescent and LED fixtures, combined with new power outlet locations, allow tenants to use task lighting, which helps further reduce electricity consumption. Moreover, all apartments are equipped with Energy Star appliances. These aggressive strategies to reduce energy use, coupled with the water conservation measures previously discussed, ultimately cut the project's utility costs in half.
Recycling. When Specialized started renovating the apartment complex, Fayetteville had no recycling program for multifamily properties. The developer built custom recycling stations for ECO Modern Flats, installed recycling bins in each apartment, and designed a system to transport the recyclables to a recycling station in south Fayetteville. Within the first 18 months after ECO Modern Flats opened, nearly six and a half tons of waste was collected from the complex. ECO's recycling program—the city's first largescale on-site recycling program for renters— spurred the city of Fayetteville to start a pilot on-site recycling program for five local apartment communities, including another specialized property, with plans to expand eventually to additional apartments.
Location:
130 South Hill Avenue Fayetteville, Arkansas 72701