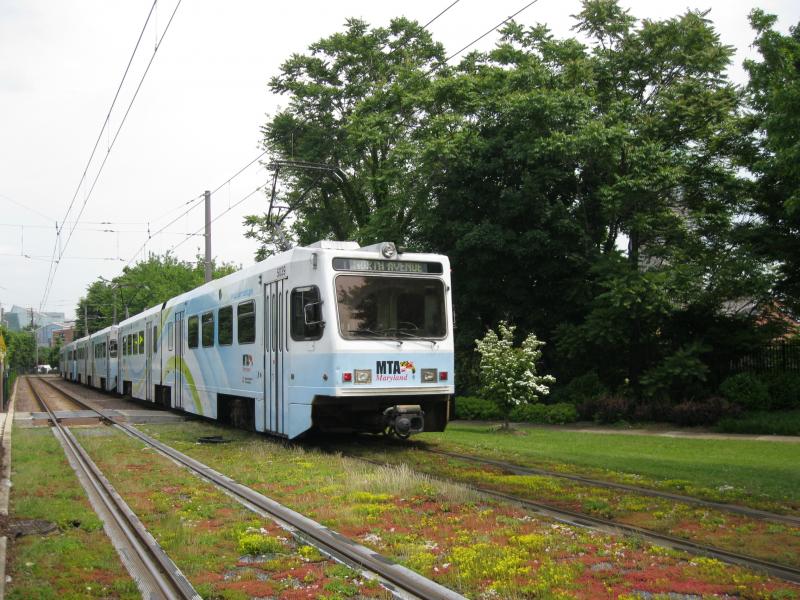 Image courtesy of Mahan Rykiel Associates, Inc.
Overview
The Green Tracks pilot project was commissioned by the Maryland transit authority and developed by a multi-disciplinary project team. The purpose was to determine the feasibility of installing and maintaining a vegetated track system on a commuter light rail in Maryland. Modeled after similar projects in Europe that use green roof technology in rail applications, the initiative selected four test sites on the existing light rail system. The project evaluated and measured the performance of different soil media and green track planting methods and assessed their viability for future light rail lines.
The results of the Green Tracks Pilot Project provided recommendations for how the transit authority might integrate green tracks into future light rail systems to realize environmental and social benefits. The multifaceted nature of transportation infrastructure provides the Green Tracks Pilot Project a unique platform to advance these benefits across a broad stakeholder group, including community organizations, government agencies, and businesses. The larger implications for the State's Sustainability practices compliment the goal of preserving the natural resources of the Chesapeake Bay through reduced run-off, reduction of the urban heat island effect, and a commitment to environmental justice across a variety of urban and suburban areas.
The Green Tracks Pilot Project was designed to bridge the knowledge gap between the widely accepted green roof technologies used in the building industry and the related, but less common, technology associated with green tracks. This study provides a concrete example of how infrastructure can be transformed from grey to green through retrofitting. It also highlights the importance of pilot projects in developing best management practices for stormwater management and green infrastructure.
Location
Baltimore, Maryland
Completion Date
2013
Program Details
Size
< 1 acre
Cost
$199,067
Cost based on furnishing, installation, and maintenance for 12 months
Land Use
Transportation
Green Features
Retrofit
Recycled materials
Bioretention
Xeric (drought resistant) species
Green roof technology
Design Features
Gray to green retrofitting
Stormwater best management practices
Green infrastructure
Education & outreach
Community involvement
Pollutant removal
Aesthetics & quality of life
Maintenance Requirements
Watering - water should be provided during the first year
Fertilization - yearly fertilization may benefit and replenish soil nutrients; soil tests should be carried out prior to fertilization to avoid an overload of nutrients
Weeding - weeding should occur 7 times per year to remove undesirable plants
Mowing - not required
Economic and Environmental Benefits
Water quality improvements
Run-off reduction
Reduced urban heat island effect
Increased open space
Public education opportunity
Location:
Light Rail in Baltimore, Maryland