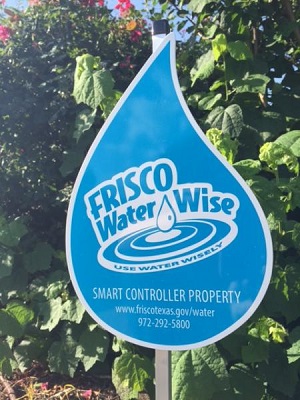 Overview
The Smart Controller Program allows for the City of Frisco's licensed irrigators to check irrigation systems for inefficiencies, set the controller to current watering recommendations, subscribe the resident to the WaterWise emails, and create a partnership with residents for educational purposes. Frisco's Smart Controller Program allows homeowners to register their smart controller with the city and allows users to have flexibility with watering schedules based on weather data.
Two distinct parts to the program exist:
1) Residents who register their smart controller receive assistance with programming the controller, a complimentary irrigation checkup, and a smart controller home yard sign. Smart controllers, which require a weather-based signal, must also provide proof of subscription, and the smart controller must be on the City's approved controller list.
2) Homes built prior to 2007 are eligible to apply for a one-time rebate of $100, which is applied to the homeowner's water utility bill. Homeowners must select a smart controller from the City of Frisco's approved list, complete the application and provide proof of purchase. The application and receipt must be received within six months of purchase. In addition to the rebate, these residents also receive the services outlined above for registering their smart controller.
Location
Frisco, Texas
Year Implemented
2007
Program Details
Implementation Process
The city of Frisco engaged in research and conversations with other Texan cities that previously initiated a smart controller program. A funding source had to be budgeted for the rebates. A partnership was created with other city departments including finance, utility billing, and technology in order to implement the program.
Motivation for Implementing Program
A 2007 city ordinance requires a smart controller in all irrigation system installations. The program was implemented as an incentive for residents to bring these systems up to current code.
Gallons of Water Saved
Over 162,500 gallons annually
Funding
Water sales
Annual city budget
Social, Environmental, and Economic Benefits
Water conservation
Increased efficiency in homeowner's irrigation system
Continued communication with community participants
Lessons Learned
The City of Frisco aimed to find a way to continue the partnership with the residents year after year and to ensure the irrigation systems continued to function efficiently. During the winter months, city irrigators contact program participants and schedule an annual free irrigation system checkup. This engagement also helps the city keep the resident's contact information up to date. If there is a new homeowner, the sign is removed, and the new resident is given an opportunity to complete an application for participation in the program. However, only one rebate is awarded per address.
Participation
564 rebates given since summer 2016
Other Sustainable Efforts
Free sprinkler system checkups
Resources
City of Frisco Smart Controller Program New-Home Application Form
City of Frisco Qualifying Controller Manufacturers