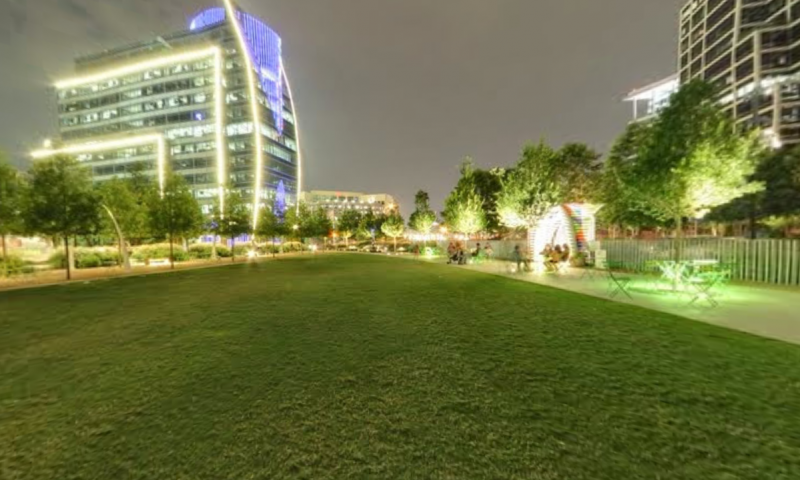 Overview
Klyde Warren Park is a landmark central open space, which spans the 8-lane, sunken Woodall Rogers Freeway, bridging Dallas' Uptown and Arts District neighborhoods. It is the world's largest suspended infrastructure to contain a park and provides a new programmed public space that physically, socially, and culturally connects two bustling districts. Complex technical engineering solutions structurally support massive loads above the busy freeway while allowing for an open, flexible park layout with sufficient soil to support a variety of trees and plantings. The park includes a wide pedestrian promenade, Great Lawn, pavilions, a children's playground, interactive water features, a dog park, botanical garden, and numerous plaza and garden spaces. Top-notch programming includes free daily events such as yoga classes, family activities, and outdoor theater and concerts. The park exemplifies innovation and is rapidly becoming the new civic heart of Dallas.
Location
Klyde Warren Park
Dallas, Texas 75201
Completion Date
2012
Program Details
Designer
The Office of James Burnett
Land Use
Transportation
Park/Open space
Project Type
Park
Size
5.2 acres
Budget
$110 million
Landscape Performance Benefits
Hosted over 1 million park visitors in its first year, including 40,000 on opening weekend.
Improves the quality of life for 90.9% of the 224 park users surveyed, primarily by reducing stress, providing a place to be outdoors and improving the area's sense of place.
Promotes healthy living for 86.3% of the park users surveyed. 69% of the survey respondents also agreed that the park increases their participation in outdoor activity.
Sequesters 18,500 lbs of CO2 annually through newly planted trees, equivalent to the CO2 emitted from driving approximately 22,636 miles in a single passenger vehicle. These trees also intercept 64,214 gallons of stormwater runoff annually through their canopies.
Reduced summer temperatures in the park by 1-9°F compared to the average temperature for the park's zip code during the week of observations.
Contributed to a 61% increase in ridership on the M-Line trolley, which connects downtown and uptown. After completion of the park, the trolley line was re-routed, with 3 new trolley stops adjacent to the park.
Created 8 full-time and 5 part-time positions in maintenance and operations, in addition to the approximately 170 temporary jobs that were created during design and construction.
Sustainable Features
15 programmed spaces within the park including a 2,300 sf concert/multi-use pavilion, a 28,000 sf event lawn, a 10,000 sf recreation lawn, a reading and board games room, a dog park, a children's playground, activity area, and interactive water features.
The park was planted with 322 trees, 904 shrubs and 3,292 groundcover/perennials of a variety of species, with 52% native to the north Texas area. Trees are planted within a grid system aligned with the 100 trenches created by the beams and slabs.
Altogether, Klyde Warren Park - including its lawns, plantings and gravel surfaces - is more than 50% permeable, compared to 100% impermeable freeway it covers.
The planting beds are irrigated with a subgrade dripline system that reduces surface runoff and the live load of the water on the deck.
To conserve energy, the project uses high-efficiency LED lighting and fixtures with solar panels.
A subgrade reservoir can collect and store up to 12,000 gallons of greywater from the park's water features for treatment and reuse in irrigation. A drainage mat between the soil and deck infrastructure also stores excess water, helping to maintain soil moisture.
A 6,000-sf restaurant, a 'grab and go kiosk', and 9 food trucks provide a variety of dining options within the park. The restaurant will use geothermal energy for cooling and heating, along with high-efficiency light features. The mobile food truck vendors not only offer tax income for the City but also generate revenue for the Park Foundation. Each food truck pays a 10% commission of daily sales; in return, the vendors are not required to have a permit to sell along the park's edge.
The 5.2-acre park project added approximately 1/2 mile of walkable streetscapes and 9 crosswalks, connecting and encouraging walking within the greater Uptown and Arts District areas.
Location:
Klyde Warren Park, Dallas TX 75201