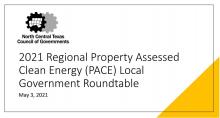 Regional Property Assessed Clean Energy (PACE) Roundtable for Local Governments
May 3, 2021
1:30 p.m. – 3:00 p.m.
Agenda: View Here
Since 2013, seven local governments have established PACE programs including the cities of Corinth, Dallas, Farmers Branch, and Princeton; the Town of Prosper; and Navarro and Tarrant Counties. This program has been implemented by these local governments to support economic development, environmental, and other community goals.
NCTCOG invites local governments to attend this information session that will cover topics such as, but not limited to:
Hear from member governments who have implemented a PACE program,
Discuss the needs in the region to encourage additional adoption of PACE programs
Explore interests in the provision of a regional PACE program option as a service provided by NCTCOG
NCTCOG technical assistance available to assist cities and/or counties with adoption of PACE programs in the region. A draft agenda for this meeting is enclosed.